Hi, I'm J.P. Vedasto, the founder of WMP, World Musicians Press. I am a mere music enthusiast, screenwriting enthusiast and expert of none. I started this online magazine after learning about the death of Elijah McClain, a 23-year-old African-American resident of Aurora, Colorado. He died August 30th, 2019, almost a year ago from the time I'm writing this.
Elijah McClain, family photo.
For those who don't know about the events leading to the death of Elijah McClain, take a pause at this point of the article and first find out more from links like these at
NPR
,
CNN
, or
The New York Times
. Moving on and assuming you do have some general knowledge about Elijah, a significant rise in the awareness of his death came after George Floyd's murder (and yes, I'm calling it that because that's what it was).
I didn't know Elijah, never heard him play violin, but I was struck by the pictures of him smiling, playing violin to cats and hearing his last dying words. That night I tossed and turned in bed, haunted by his cries, forever engraved in my mind. How did he look suspicious? Is it possible for someone to commit crimes by night and play violin for cats during the day? This is an egregious act of implicit bias based on dangerous stereotypes. Racism is the self-perpetuating double-edged sword that strikes fear in the hearts of both Black and white people.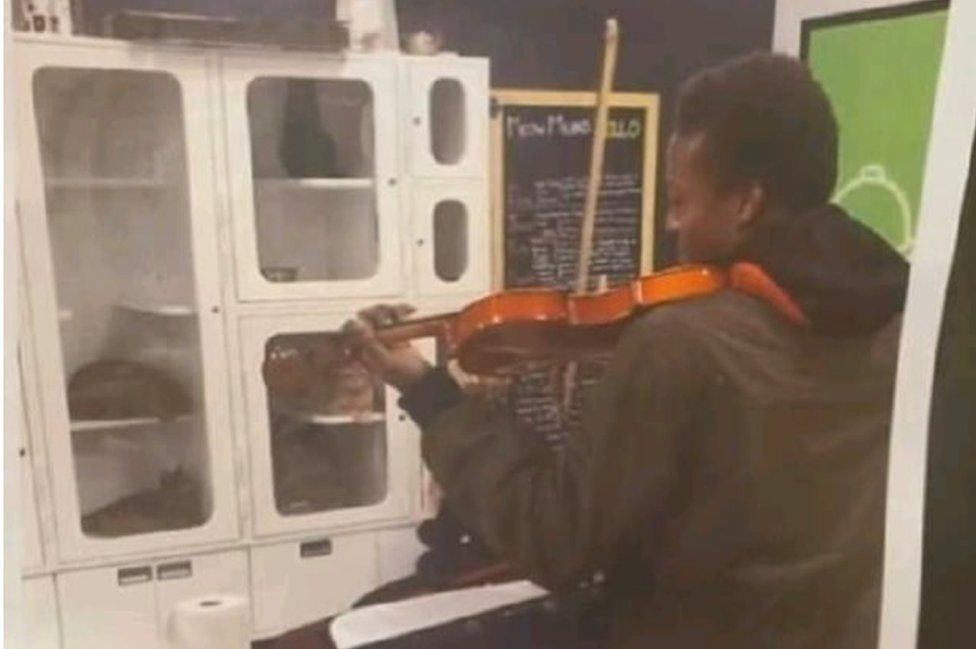 Elijah playing music to animals in a shelter.
I've contributed to causes that support Black communities, shared posts about white privilege, police brutality, and systemic racism--and gratefully through the process, learned more had a lot to learn. However, there still lies an unquenched anger behind my fingertips when I ranted online about these issues. I wanted to do more and channel my frustration into something positive. While the lack of critical thinking is ever so ubiquitous on the internet (to put it nicely) and calls for another non-expert of race relations, Black history, or music history to chime in, I'll happily admit my credentials are limited to being a keen observer, decent researcher and just caring enough about this cause to keep the conversation going.
Post-Floyd, we have had a resurgence, a watershed moment of restructuring our institutions to breaking down systemic racism. Companies are making initiatives for equitable employment practices that include racial sensitivity training, awareness of ignorance of black history has guided schools to integrate more Ethnic Studies into their curriculum and companies are endorsing black-owned restaurants, businesses and media by Black creators. There is more awareness of integrating Black people into STEM through programs like Black Girls Code and Black Women in STEM. However, there is a huge deficit of Black representation in classical music; a world that is filled with high levels of skill along with a membership of mostly white and Asian people. This will be discussed in an article in the future.
Lil Wayne performing at 420 Festival.
Speaking of Black people in music, picture this: if you go to a Lil Wayne concert, you see
a lot
of white people in the audience. But yet a young Black person is walking down a Colorado street at night, and his 140-pound build somewhat becomes a threat to the neighborhood and the three combat-trained police officers? While I'm not discounting the value of rap and hip hop in Black communities, I instead would like us to think about why these genres of music could be perceived as more appropriate for a black person to perform than classical music? Why is it okay or safe to see a black person playing sports or rapping on stage, while doing something like walking down the street of their neighborhood is seen as a threat? Most basketball fans adore LeBron James, but if he wore a hoodie and walked down a dark street at night, people might call the cops on him. How contradictory are our expectations of Black people; that they are idolized, yet, demonized?
What is it about entertainment (sports and music) where someone can be held to a high value in the public eye, but off the stage or court they no longer do? Now, I'm a nerd who cannot comment on sports to save their life, but I do have my musings about music and racism, which we'll also get to in future articles. We'll also tackle the commercialization of music; how it's a high commodity, yet the majority of artists who have to be vulnerable to make it end up being victimized by it. And, of course, we also have in store pieces about brilliant local musicians who are discussing problems in the music industry.
With the help of a friend, Joanna Glass (of the amazing alternative rock band Glasspirits), who kindly reached out to her network of the most capable and excellent musicians from her career, we are able to start with a boost of articles about talented artists who took a risk to help launch this new endeavor. (Marc Mumcian, Laura Valle and her bandmate Abe Perez). My initial and unassuming conception for WMP was to have a blog of reflections and other musings, but with the caliber of contributors, this can easily be a legitimate resource for musicians and music enthusiasts.
To be transparent, WMP, as it stands, makes no profit and probably won't for a very long time. We want the blog to maintain a minimalistic aesthetic with no bombastic flashing advertisements (those websites know who they are). If you click on this site's advertisements, I'll get pennies. If you actually buy something, a buck or two. But the cost of maintaining this website is out of my pocket and I'll have little to no concern about not offending sponsors and therefore be guilt-free in maintaining the integrity of WMP's message.
Elijah McClain on life support, family photo.
And after watching disturbing bodycam footage of the death of an innocent Black man that initially led to rants on the internet to friends in semi-empty echo chambers, I didn't want to be another frustrated SJW whose posts would get lost in the weeds of other dissenting social media keyboard warriors. Thus, I am here on this platform today and
this
is my call-to-action.
As mentioned earlier, our goal is to have discussions about equity for musicians who are discriminated against, talk about the well-being of musicians, and discover what working musicians in different sectors of the entertainment industry do and the wisdom they have to offer. We also want to respond to music research, then respond in the colloquial so information is accessible as possible and reduce music snobbery. WMP is not intended to be intimidating nor stray people away from learning about classical music.
Let's make this a safe place for musicians and other artists to learn, shall we? Hopefully, it becomes an outlet for musicians to express their words and a safe space to learn about issues in the commercial and classical music scene. I hope that through discussing the political, social and economic issues we can work towards the community, equity, longevity and well-being of all musicians.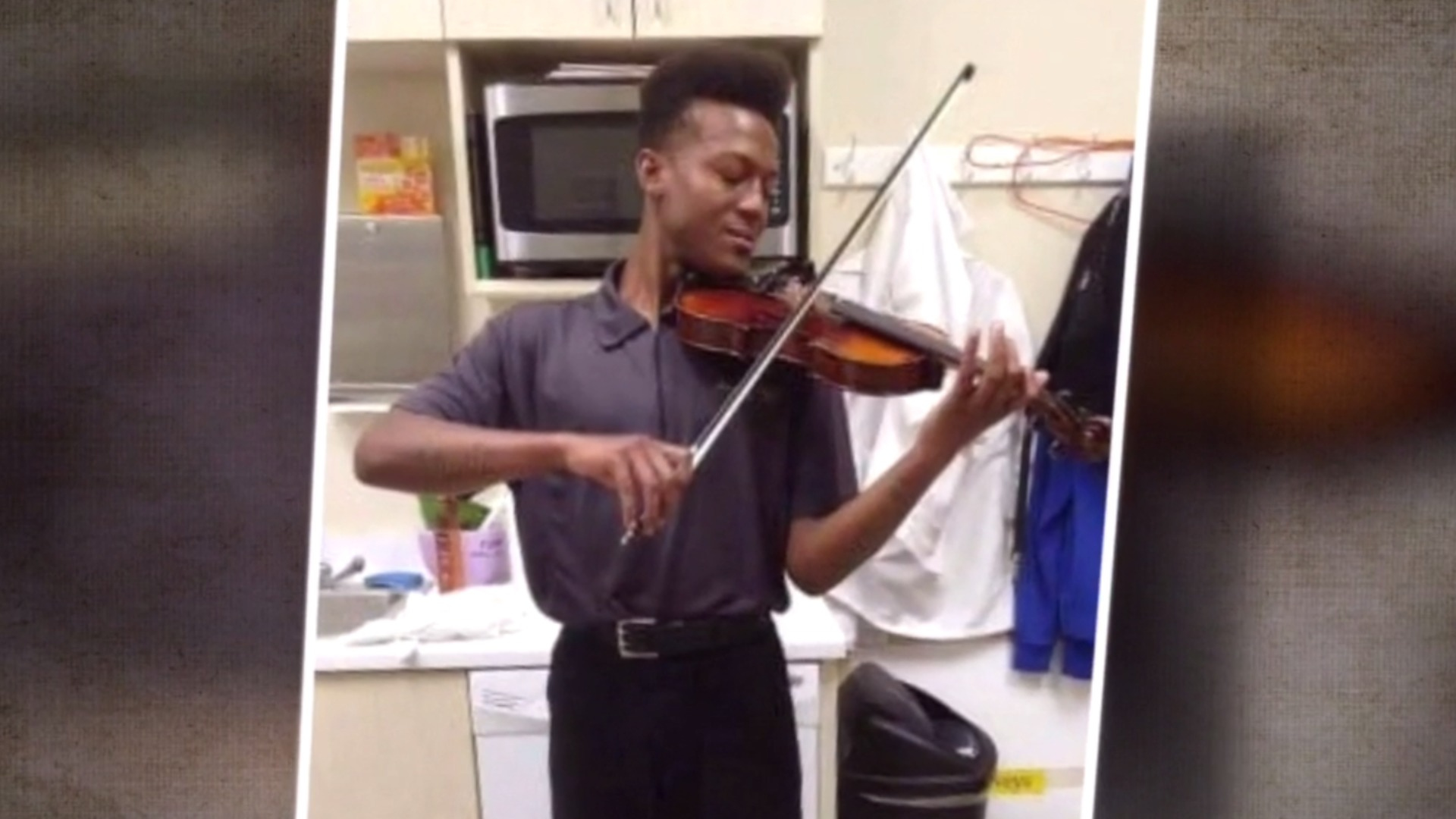 Elijah McClain playing the violin.
Elijah, thank you for being yourself. Thank you, for playing music to animals in a shelter. The world is a lesser place without you. We hope justice will be served on behalf of you and your family. In the meantime, this is for you.
For questions, comments and concerns, please use this form to contact us.